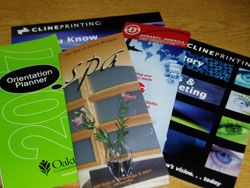 When it comes to business communications services, we've got it covered. We can provide virtually any product or service imaginable to communicate with your clients, employees, stockholders, or vendors.
From direct mail pieces and brochures to establishing a corporate identity, Cline Printing, Ltd. Elk Grove Village, IL can provide your company with the guidance needed to pull together the materials that will assist your business in reaching its goals.
Below are a list of our products and services available to you, to learn more contact one of our representatives.
Products
Services